Capital South Properties
Welcome to Capital South Properties, the premier housing provider in Albany's most historic downtown neighborhood.
Capital South Properties is now taking applications and showing newly constructed and rehabilitated houses and apartments for rent near such landmarks as the historic Schuyler Mansion, Howe Library, and Lincoln Park. Easy access and breathtaking views of the Empire State Plaza and Albany's Central Business District await you.
Architect-designed single-family houses and 1, 2 and 3 bedroom apartments are now available. Amenities include gas-fired forced-air heat for cozy winters and central air conditioning for those hot August days and nights. Wall to wall carpet, instant hot water, dishwashers, tile baths, and ample storage combine to create a comfortable and attractive living environment for modern families.
Call our Application Hotline at (518) 641-7485 so that our leasing staff may arrange an appointment for you to view the newest apartments today.
Note: For applications and unit tours please call 518-641-7485. Applications should be returned to the main office at 200 South Pearl Street.
Capital South Properties is an equal housing opportunity provider. Section 8 welcome. Income restrictions apply. Rents differ according to their affordability to persons at or below 50% or 60% of the Area Median Income (AMI). Income ranges are listed on this page, for your information. If you require a rent-subsidized apartment and you are not already on the Albany Housing Authority waiting list, apply at 200 South Pearl Street, Albany, NY 12202.
South End Phase I
Phase I consisted of the rehabilitation of Morton Ave's Eagle Court Apartments and the building of Broad and Clinton Streets' Jared Holt Mews townhomes. Eagle Court Apartments provided 42 apartments. Jared Holt Mews created 10, single family homes.
South End Phase II
Phase II of the South End Revitalization Project, resulted in 43 additional housing units. Phase II is a mix of new construction and rehab work on scattered sites. There are nine lease-to-own units, three bedroom single family homes that have been constructed on Catherine, Clinton and Broad Streets and 34 one and two bedroom apartments that have been rehabbed or built along Morton Avenue. Phase II was completed in 2011.
South End Phase III
Phase 3 completed with fifty-six affordable housing units in eight buildings. To help meet the high demand of new families moving in and from the surrounding community, a 1,000 square foot commercial laundromat was built as a necessary neighborhood amenity.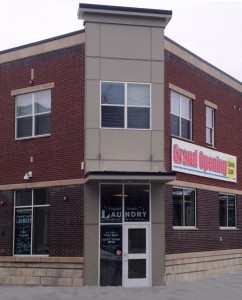 Capital South Laundromat
The grand opening of the South End's brand new Capital South Laundry establishes an important amenity in the revitalization of the area as a community of positive choices. The sparkling clean, new facility at 344 South Pearl Street is open to everyone and will feature a community bulletin board. Water for washers is heated by a solar system, with roof-mounted collectors, and will be demonstrated at the event. A grant from the New York State Research and Development Authority (NYSERDA) made acquisition of the solar system possible, and will reduce operational costs for years to come while helping to protect the environment.
Unit Availability (PDF Document)
Income Range Information (PDF Document)
AHA Ribbon Cut 11×17 Program (PDF Document)
Capital South Ribbon Program (PDF Document)
Capital South Ribbon Program Insert (PDF Document)
Capital South Postcard evite (PDF Document)
Manager's Office
Mike Rimmer
Asset Manager
34 Morton Avenue
Albany, NY 12202
Phone: 518-380-5571
Steve Iarossi
Senior Asset Manager
34 Morton Avenue
Albany, NY 12202
Phone: 518-380-5571
Note: Only tenants should contact the Development Manager. All other inquiries should be made to 518-641-7485.