Are you interested in hearing what's going on in Albany? Then tune in each week to "Talk of the Town," a new radio interview show with Albany Mayor Kathy M. Sheehan. The show, with host Bob Cudmore, airs on Magic590AM every Friday at noon and again on Saturdays at 7:30 a.m.  If you'd like to ask the mayor a question about the City of Albany, send it to askkathy@albanyny.gov.
For a printable flyer please click Here.
WE ARE FREE TO BREATHE!
Albany Housing Authority is Going Smoke-Free as of JANUARY 1ST, 2016.
To insure the quality of air and the safety of residents in its housing programs, Albany Housing Authority has decided that all residential properties will be smoke-free as of January 1, 2016.
Smoking will not be permitted indoors, including in the apartments.
Smoking will be permitted outside in designated areas, or more than twenty-five (25) feet away from buildings if there are no designated areas.
A smoke-FREE policy in all Albany Housing Authority buildings means that everyone who visits, lives or works in Albany Housing Authority buildings is FREE to breath cleaner, safer, healthier air.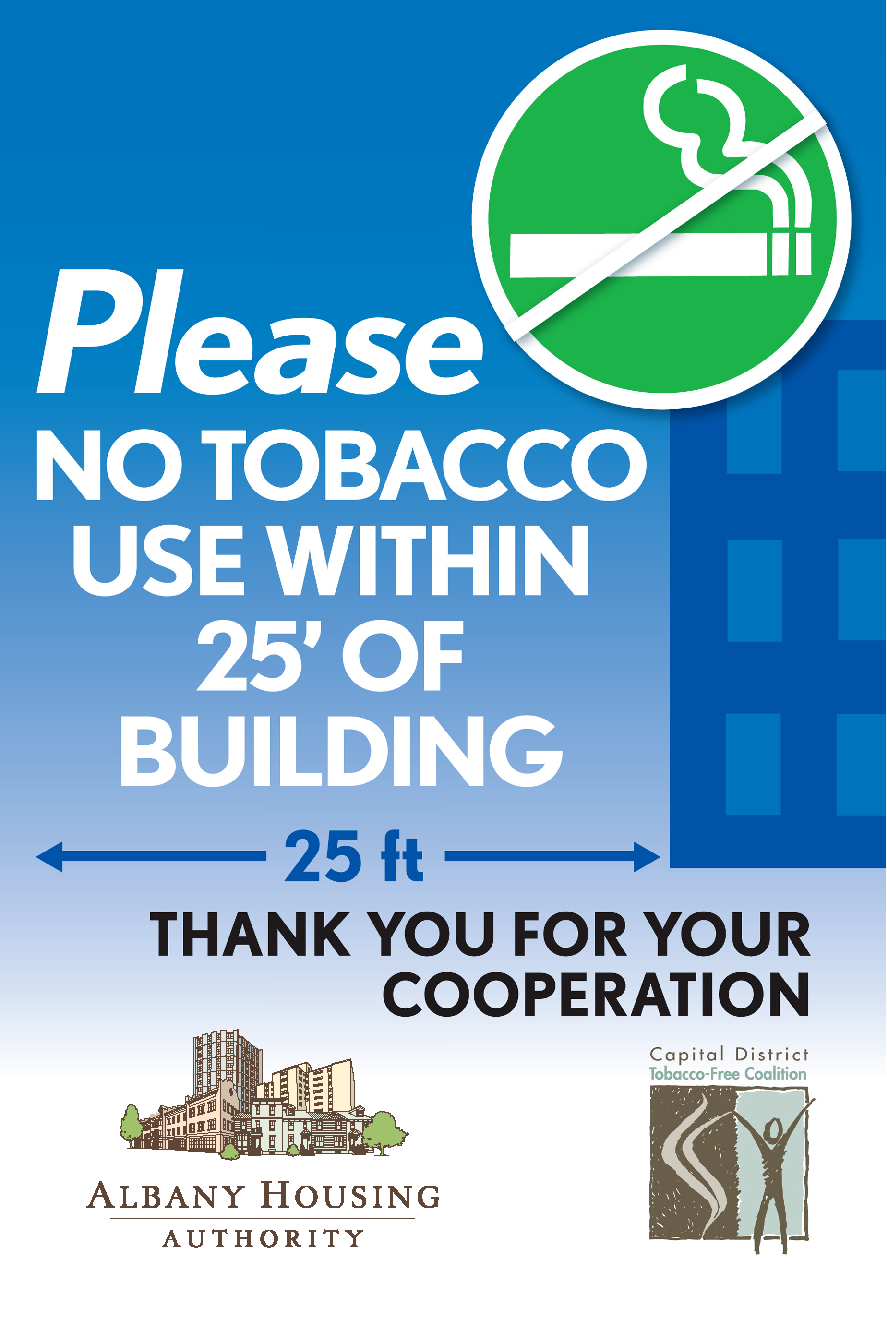 A healthy living partnership of
Albany County Dept. of Health
Albany Housing Authority
American Heart Association
Asthma Coalition of the Capital Region
Capital District Tobacco Free Coalition
Center for Health Programs & Promotion
Healthy Capital District Initiative
Why is Albany Housing Authority going smoke-free?
It's Cleaner!  Smoking in units leaves a residue that is both highly toxic and difficult to clean.  This residue contains chemicals that can produce similar effects to lead poisoning.
It's Safer!  Smoking is the leading cause of residential fire deaths and injuries.  Almost 1,000 people die every year in smoking-related fires, half are residents in multiunit housing.
It's Healthier!  Secondhand smoke travels between units and poses a serious health threat to children and adults.  Exposure to secondhand smoke can:
Harm lung development in children and cause Sudden Infant Death Syndrome
Cause heart disease and lung cancer in nonsmokers
Lead to more coughs, wheezing, ear infections, bronchitis or pneumonia
Trigger more frequent and severe asthma attacks
What about smokers?
Smokers are free to enjoy their home but must smoke outside and away from buildings.   If anyone wants to quit, we can help through:
The Butt Stops Here cessation classes call 459-2550 or visit www.healthprograms.org/quit-now for more information
The New York State Smokers' Quitline 1-866-NY-QUITS or www.nysmokefree.com
Thank You!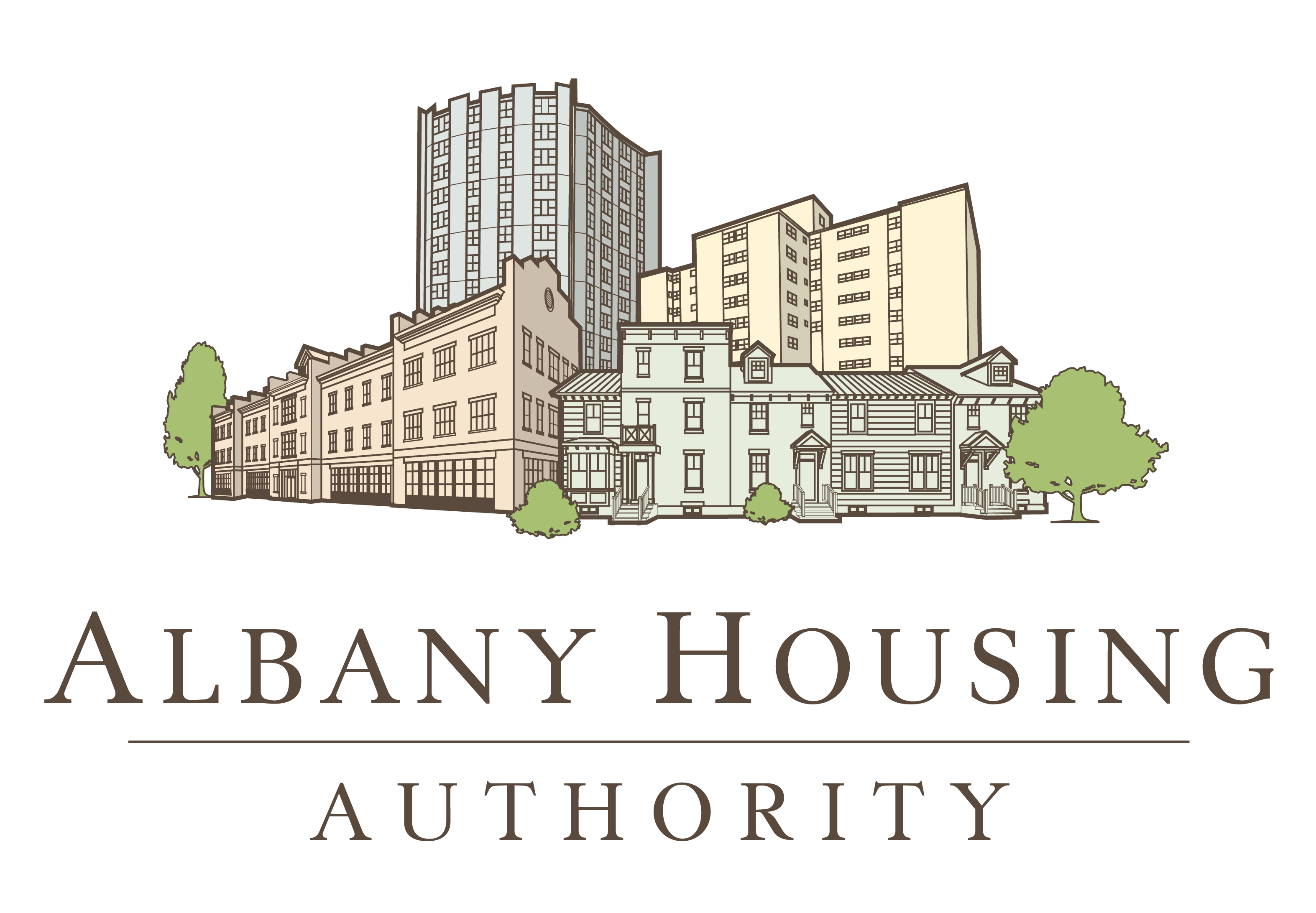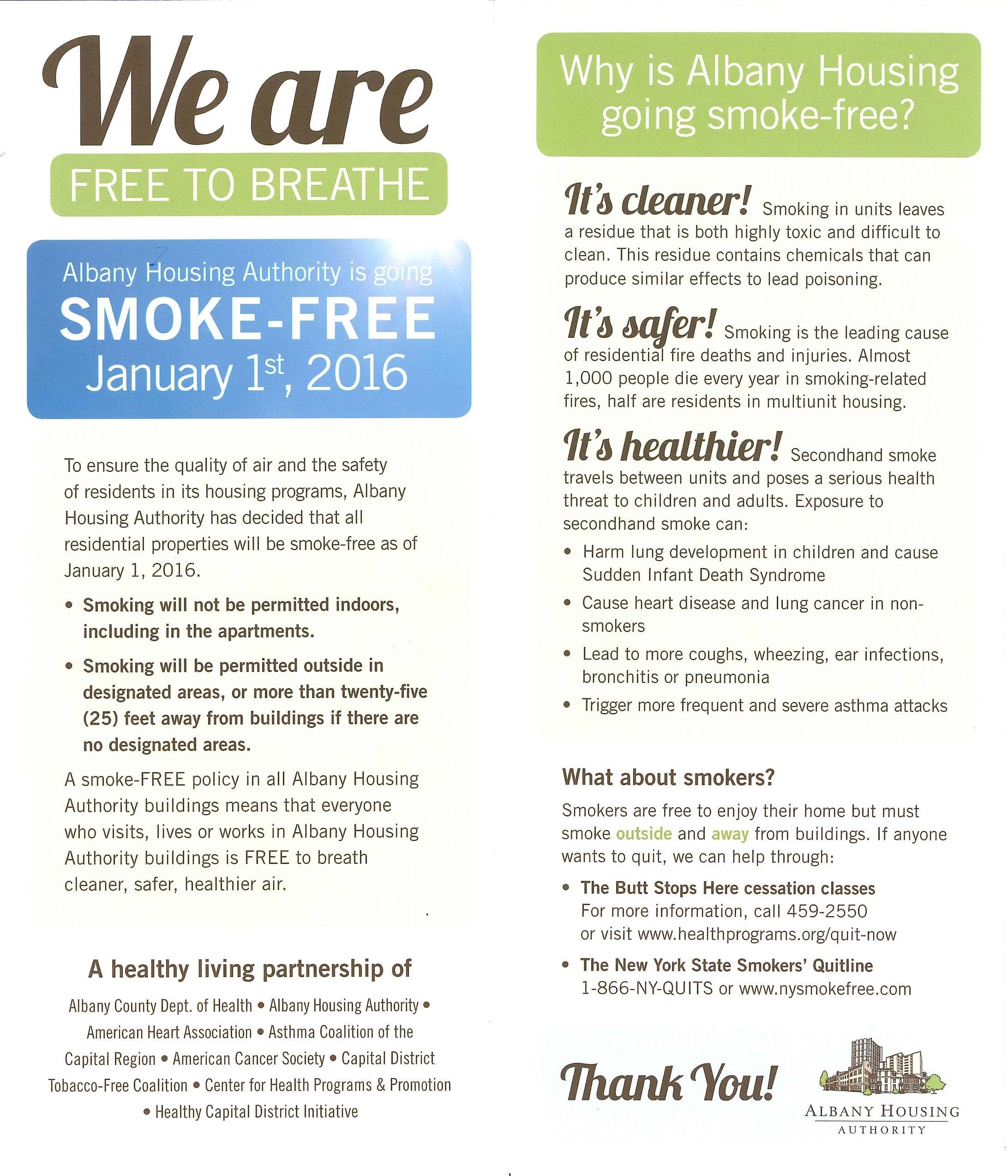 For a printable copy of our flyer please click Here!
Please be advised that due to an oversight in the previous tenant commissioner election process new elections will be held as soon as possible. This will be an interim election to complete the current terms. Any PH resident or Section 8 voucher holder in good standing is eligible to seek election. Details will be posted on the website and in AHA Management offices as soon as available.
On behalf of the Albany Housing Authority and Robert Whalen Homes, I am proud and excited to announce the opening of the laundry room at the Robert Whalen Homes. There was an operating laundry room in this development previously and we are happy to have it open again.
After several requests from our residents, the process of reopening the laundry room began. The residents voiced that there was a need for a laundry area in this development because there was a lack of laundry facilities in the community. We hope that this laundry space will improve the quality of life for you, our residents.
NOTICE
CHANGE OF LOCATION
FOR
OCTOBER 2
TENANT COMMISSIONER CANDIDATES EVENT
 THE LOCATION FOR
 MEET THE TENANT COMMISSIONER CANDIDATES EVENT
HAS BEEN CHANGED!
IT WILL BE HELD AT
EVERLY CROMWELL COMMUNITY CENTER
 260 NORTH PEARL STREET ALBANY
 ON WEDNESDAY OCTOBER 2
AT 7PM
The AHA Annual Plan is now available for viewing.
AGENDA
ALBANY HOUSING AUTHORITY
BOARD OF COMMISSIONERS SPECIAL MEETING
FRIDAY, AUGUST 16, 2013 at 2:00 P.M.
200 South Pearl Street
1. Roll Call.
2. Community Forum
3. Action Calendar
08-13-35 Approval, subject to negotiation of terms satisfactory to the Executive Director & approval by General Counsel, to enter into a Joint Venture Agreement with WinnDevelopment Company Limited Partnership to facilitate the acquisition, design, financing, renovation, and ownership of Livingston Apartments in which Albany Housing Authority or an affiliate would act as Managing General Partner & perform certain services, but assume no financial risk, in exchange for a fee of not less than $50,000.
08-13-36 Approval to enter into a Construction Management Agreement for the rehabilitation of 84 Morton Avenue for an amount not to exceed $50,000 with the contractor who submits the proposal found to be most advantageous to the Authority. Requests for Proposals were sent to Sano-Rubin Construction Co. Inc., Bishop Beaudry Construction, Inc. and AOW Associates, Inc. with responses due August 9.
08-13-38 Approval to enter into a contract for Developer Consultant Services for Ida Yarbrough Homes Rehabilitation, Phase I with Calogero Partners, LLC, the consultant who submitted the proposal found to be most advantageous to the Authority, for an amount not to exceed $60,000. Proposals were also submitted by Recap Real Estate Advisors and KLR Consulting, LLC
08-13-39 Authorization for the Executive Director to submit a Section 211 Waiver request to the New York State Civil Service Commission on behalf of Jay Cunningham.
5. Reports of Committees
6. Unfinished Business
7. New Business:
8. Bills and Communications
9. Report of the Executive Secretary
A. Monthly Management Report
B. Monthly Financial Report (Deputy Director)
C. Items for Advisement and Discussion
Bank Balance as of:
10. Adjournment –
NEXT MEETING:
Monday, September 9, 2013 @ 2:00 p.m.
200 South Pearl Street, Albany, New York 12202