For over seventy years, Albany Housing Authority has been providing rental housing for very low, low, and moderate income households in the city of Albany. The agency owns and operates 1,800 public housing units, administers an ongoing public housing rehabilitation program averaging $2.5 million annually, and administers a Section 8 program that provides assistance on behalf of 2,200 households in the city of Albany. In the past five years, AHA has undertaken multifamily housing initiatives using various financing sources, including federal HOPE VI funds, tax exempt bonds, Low Income Housing Tax Credit equity, New York State financing, and Federal Home Loan Bank funds. Through the federal HOPE VI Program, AHA has demolished an obsolete 292-unit public housing project in North Albany, developed 160 new units on the same site, and is now completing the development of 169 replacement units offsite through acquisition or new construction. In doing so, in 2003 AHA acquired a 92 unit, ten year old "market rate" development; of which 56 units are public housing and the 42-unit balance is market rate; 79 more residential units and 7 commercial storefronts are being completed using, in part, equity from 9% and 4% credit awards. In 2001, AHA completed the acquisition and $13 million rehabilitation of a failed 250- unit HUD Section 236 project, and dedensified the project into a healthy 145-unit family development.
In addition to AHA's proven expertise in owning and operating rental housing, AHA is administering four publicly and privately-financed homeownership development programs with a total development cost approaching $8 million. AHA recently completed a New York State funded North Albany Homebuyer program that provided down payment and closing cost assistance on behalf of twelve homebuyers to complement the new Corning Homes HOPE VI development in North Albany. AHA administered the Frederick Douglass Housing Program, which developed a dozen new single-family dwelling units in Albany's south end. AHA is now finishing the Southend Homebuyer and Rehabilitation Program (SHARP), a state-funded homeownership and rehabilitation program and in 2008, AHA will begin construction on the Stephen and Harriett Myers Affordable Housing Program, a State, Federal, and privately financed homeownership program, through which AHA will develop ten homes for sale in Arbor Hill.
Other recent AHA initiatives include AHA's construction of a new administration building, and AHA's issuance of bonds to finance major capital improvements. In 2002, AHA completed and occupied a $4 million administration building that consolidated all AHA administrative functions formerly located at two vacant high rises. The high rises were demolished in late 2004, using nearly $1 million in HOPE VI demolition funds and bond proceeds. In 2007, AHA completed the financial restructuring and rehabilitation of a 128 unit State Public Housing development, which was financed with tax credit equity and other soft financing. In 2008, AHA will take out a nearly $9M Fannie Mae loan, secured by future Capital Funds, that, along with equity from the 4% LIHC program, will help finance the $16 million rehabilitation of a 179 unit family development in the Southend, and finance other health and safety improvements in AHA's portfolio.
From "Providing Housing" to
"Building Communities":
A Brief History of the Albany Housing Authority
Robert Briggs – Author
Barry J. Romano – Editor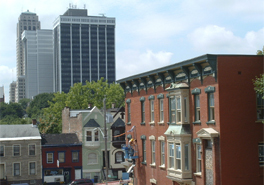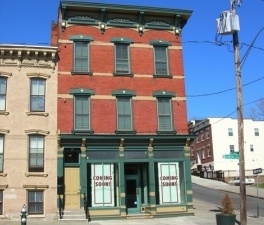 Albany Housing Community Choir