The AHA Board of Commissioners
The Albany Housing Authority Board of Commissioners is made up of seven members. Five members are appointed by the Mayor and serve five year terms. There are two Resident Commissioners who are elected by the residents of the Authority and serve two year terms. At the Board's annual meeting, held in January, the Commissioners elect a Chair and Vice-Chair. The Commissioners are the governing officers of the Authority. Their responsibilities include setting policies governing the operations of the Authority; charting the direction of current and future programs and development; and approving contracts entered into by the Authority. The Board of Commissioners hires the Executive Director who serves as Board Secretary and is responsible for managing the Authority's day-to-day operations.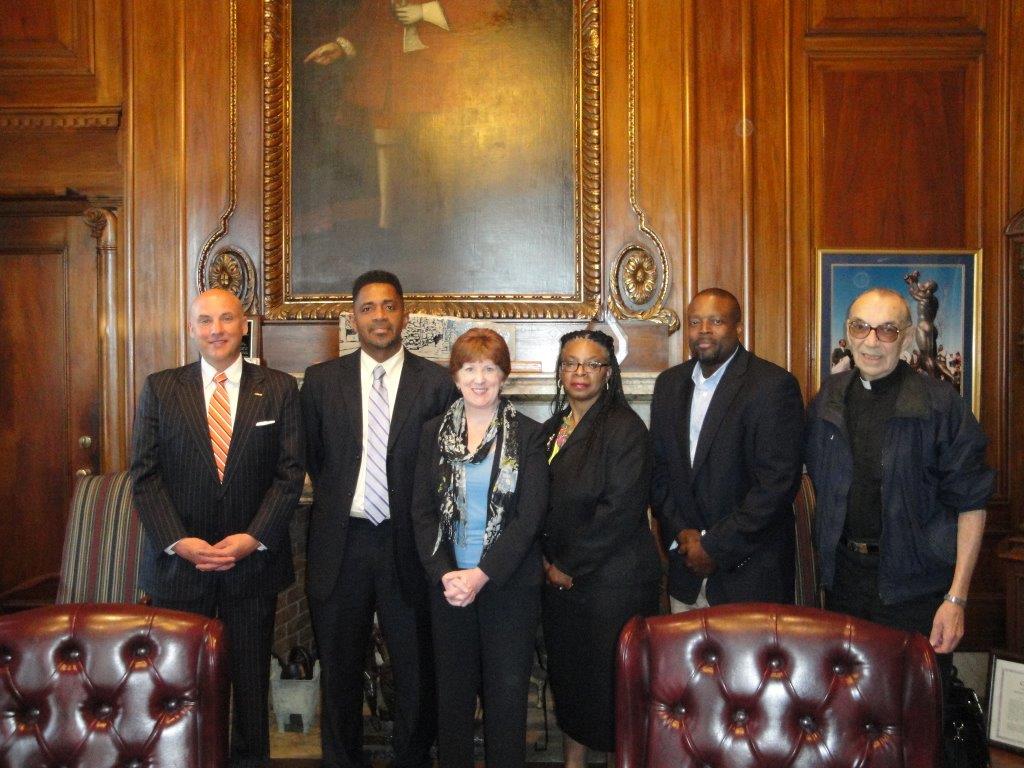 The current members of the Board of Commissioners are:
Michael Whalen – Chair
Kelly Kimbrough – Vice-Chair
Reverend James Lefebvre
Linda Mitchell
Mark Bobb-Semple
Mary Ann Hines – Resident Commissioner
Melvenia Jenkins – Resident Commissioner
Schedule
The Albany Housing Authority's Board of Commissioners conducts regular Meetings on the
second Tuesday of each month. Meetings begin at 3:00 P.M. and take place at the
Authority's Administrative Offices, 200 South Pearl Street, Albany, New York on the following dates:
Tuesday, January 24, 2017
February 14, 2017
March 14, 2017
April 11, 2017
May 9, 2017
June 13, 2017
July 11, 2017
August 8, 2017 – CANCELLED
September 12, 2017
October 10, 2017
November 14, 2017 – CANCELLED
December 12, 2017
Regular meetings of the Board of Commissioners are open to the public. Those who wish to address
the Board must register by contacting the Office of the Executive Director (518-641-7518)
at least forty-eight (48) hours before the scheduled Board Meeting. Speakers will be
heard in the order of registration and speaking time will be limited to two (2) minutes
per person. Please note, no electronic devices will be allowed. The public comment period
will conclude upon all speakers being heard or at the expiration of thirty (30) minutes,
whichever occurs first.
For Board Meeting dates and times, and/or additional information
that is not already listed on this web page, please call (518) 641-7518. Copies of the
agenda can be picked up at with the Executive Assistant at 200 South Pearl Street,
Albany, New York, no earlier than 3 P.M. on the Friday before the upcoming Tuesday Board
Meeting.
Any person requiring a reasonable accommodation in order to participate in the
Board Meeting should contact the Executive Assistant at (518) 641-7518 no later than five
(5) business days before the Board Meeting.
AGENDAS
2017 Meeting Agendas
2016 Meeting Agendas
2015 Meeting Agendas
2014 Meeting Agendas
2013 Meeting Agendas
2012 Meeting Agendas
2011 Meeting Agendas
MINUTES
2017 Meeting Minutes
2016 Meeting Minutes
2015 Meeting Minutes
2014 Meeting Minutes
2013 Meeting Minutes