Steamboat Square Homes, 20 Rensselaer Street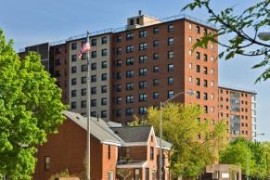 Steamboat Square High Rise
There are four buildings with 306 units at this site which was extensively renovated and dedensified in the mid 1980's. The ground floors of the buildings house various resident support services including day care, WIC, and resident employment development. The buildings also received new boilers, toilets and lighting under an energy performance contract within the last 3 years. Half of the refrigerators are also being replaced with the EPC this year. There are 16 family townhouses with individual entrances at the base of two of the buildings; children are not housed in the units accessed by elevator.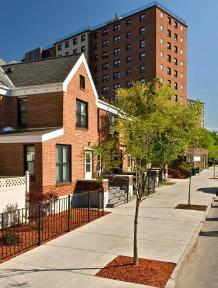 Steamboat Square Townhouses
There are six buildings with 44 units adjacent to the highrises. Major updates to the siding, roofs, exterior doors and kitchens were done around 2000 and sprinklers were installed in 2001.
Steamboat Square Historic Rehabs
There are 10 buildings with 31 units. These were acquired and rehabbed in the mid 1980's. Exterior steel fire stairs were added in the early 1990's, at which time lead abatement and pointing of the exterior was also done. AD.A upgrades occurred in the late 1990's and sprinklers were installed in 2001.
Managers Office
For information on Steamboat Square Homes please contact:
Colleen O'Keefe
Senior Asset Manager
220 Green Street
Albany, NY 12202
Phone: 518-380-5551
Or
Jeff Gambrell
Asset Manager
220 Green Street
Albany, NY 12202
Phone: 518-380-5551
Welcome Video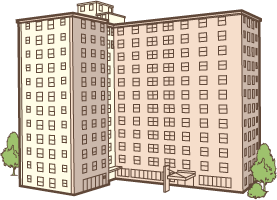 Photo Categories