About the Operations Department
The Albany Housing Authority has fully embraced and adopted HUD's blueprint for what is called Asset Management. Several years ago the Authority took on the responsibility to re-tool both its Property Management and Maintenance Departments, combining both departments under one department head, now calling the new department, Operations (Asset Management). With re-tooling the departments the maintenance staff moved from a centrally assigned work station to a permanent assignment at a specific property. Instead of working for a Maintenance Foreman and the Director of Maintenance, they now are supervised directly by the Development Manager and a new property management title called Leasing Specialist. The property management team (Development Manager and Leasing Specialist) are directly supervised by the assistant to the Director of Operations. The Director of Operations being responsible for all staff in the department.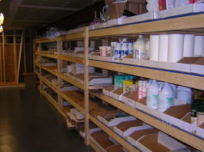 Department Staffing
The Operations Department is the largest department in the Albany Housing Authority. The department consists of 71 employees. Staffing consists of 54 maintenance personnel, 16 middle management personnel and one department head. Overall, the department consistently sets high level goals to achieve effective property management and resident satisfaction. Those procedures and policies that make up the performance indicators are monitored and managed through a comprehensive computerized work order management system.
The Departments Commitment to Performance Expectations
HUD annually verifies that all procedures set in place to adequately maintain the property are being followed by the management and maintenance staff. There is a scoring system in place for the various components used to monitor and access the level of performance at each property. The key components for rating the maintenance performance at each property are as follows:
Routine work order performance, routine work requests must be completed in less than thirty (30) days
Emergency work order performance, all emergencies must be abated within twenty-four (24) hours
Vacant unit turn time, units must be ready for rental fifteen (14) to twenty-three days (23) from first notice that the tenant has moved out
Inspections of buildings and systems, the Operations Department uses an all encompassing computerized program to monitor and verify that the buildings, grounds and systems are being consistently maintained per the level of HUD mandated performance
Resident satisfaction
Procedures and Guidelines to Measure Performance
The work procedures adopted by the Albany Housing Authority exemplify its philosophy of delivering the highest quality of maintenance and property management services to its residents. Work is prioritized daily to ensure that the most important maintenance work is completed first and that no resident suffers from a loss of any services. Emergency work requests are abated well within the HUD mandated allowance of twenty-four (24) hours. Vacant units are prepared quickly to minimize revenue losses. Absent any emergency work, vacant unit preparation is front loaded along with routine tenant work requests. Routine resident work requests are handled daily as well using all available staff not assigned to emergency work. The Operations Department average turn around time for routine work order requests is 3.55 days, far below the HUD mandated 30 days. The Authority offers its staff on-going levels of maintenance training, either using in-house skilled personnel to individually teach classes or by taking advantage of outside entities offering related training in the maintenance and skilled trades areas. In the past this has been done in partnership with the unions.
Work Orders, Preventative Maintenance and Property Supervision
Operations uses a fully automated computerized program to maintain and monitor all property/building systems and individual equipment. Monthly, the program generates work orders to perform preventative maintenance on building envelopes, heating systems, pumps, fire protection systems, just to name a few. The system is front loaded with all pertinent information recommended by the individual manufacturer of the specific equipment or system currently in place. Some of this work is handled by site based staff while other parts are handled by a preventative maintenance staff managed directly by the Central Office. The preventative staff are highly skilled individuals that excel in one or more of the skilled building trades i.e. Electrical, HVAC (heating, ventilation and air conditioning), Plumbing.
Responsibilities
It is the responsibility of the Operations Director to ensure that there are sufficient and clear procedures in place to allow the operational staff to implement the maintenance policies and procedures. Each property or AMP as it is now called (Asset Management Property) is responsible to manage the maintenance function. The Property Managers and Leasing Specialists are in a sense mini directors in charge of accessing and assigning the work to their staff each working day.
All procedures include the following:
A statement of purpose;
The job titles of the staff members responsible for carrying out the activities in a formatted procedure;
Forms, the proper documentation to carry out the work and identify what was needed to bring a particular work assignment to closure;
Frequency of all required work, whether routine, emergency or preventative maintenance work;
Procedures, once adopted, are continually under review and evaluation, they are updated as needed. Adjustments are continually made to address the installation of new equipment and the greater demand to maintain said equipment in order to achieve the full life of that equipment. The Operations Director establishes measures, checks and balances, which will allow the effectiveness of the maintenance systems and activities in place. Local codes, quality control standards, Authority collective bargaining agreements and staff job descriptions are all taken into consideration when establishing all policies and procedures. The property level management staff, Development Managers and Leasing Specialists, is responsible to consistently verify that all appropriate standards and policies are adhered to by the site based maintenance staff when completing the work. The Property Manager/Leasing Specialist is required to selectively choose a predetermined number of completed work requests and field verify that all work reported as performed and completed was done so to the full satisfaction of the resident. The Manager is looking to verify that the site staff completed the work requested in a neat and workman like manner. That all work areas were left clean and that the materials noted on the work order were in fact used and installed correctly. Snow removal is handled totally in-house at all properties. The Operations Department documents the work for each and every snow/ice emergency.
Maintenance Coverage at the Property Level
Maintenance coverage is available to all residents 24 hours a day, 7 days a week, 365 days a year.
Contact
The phone number for maintenance at all sites, at any time day or night is, (518) 447-0047
Normal property business hours are Monday though Friday, 8 am to 4:30 pm.
For those hours above and beyond the normal business hours, the Operations department offers maintenance supervision and staff on call. They will respond to any emergency situation, however they are not available to respond to routine calls for service, it's EMERGENCYS ONLY, that's important to remember. Routine maintenance calls must be called in during normal business hours.
To contact someone in the Administration Building, please contact:
The Main Office
Albany Housing Authority
200 South Pearl Street
Albany, NY 12202
Phone: (518) 641-7500
Maintenance FAQs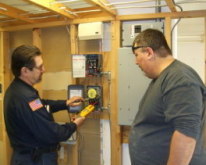 Electrician Training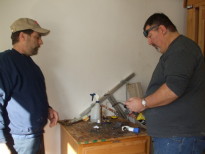 Training Center