Administration Building, 200 South Pearl Street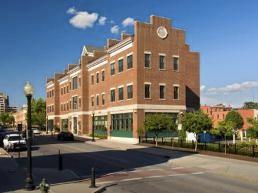 Administration Building
In early 1999, the Albany Housing Authority embarked on an ambitious plan to construct a new office building and demolish the two vacant residential high-rises where the offices are currently located. Mindful of the community revitalization benefits that would result from this work, AHA sought the development advice of Goody, Clancy, and Associates, a Boston-based planning and design firm. On the basis of a day-long charrette attended by South End residents, neighborhood activists, city officials and AHA staff that included a South End walking tour and group discussions, Goody, Clancy ultimately issued a report that recommended the building site. The new office building, and the subsequent demolition of the vacant high-rises, has spurred additional revitalization efforts along the South Pearl Street corridor and in the South End.
The building accommodates approximately sixty-five AHA central office employees, including executive and senior management staff, and staff from the accounting, personnel, modernization, risk management, operations, Section 8 and tenant selection, technical programs, community services, and management information services departments. The Authority's vehicle repair, garages, truck fleet and bulk storage remains at the current Church Street location.
The three-story building, designed by Harris A. Sanders Architects of Albany, provides 30,000 square feet of space for administrative offices and resident services, around a central three-story atrium. The design features a neighborhood meeting room on the first floor, executive offices and conference areas on the upper floors, and an exercise area with lockers in the basement. The building complements the scale and character of the historic neighborhood by incorporating the Dutch rowhouse style through its gable roof, window design, and brick detailing. Zandri Construction Corporation of Cohoes is the general contractor.
In 2002 AHA completed construction of its new headquarters building on vacant land on South Pearl Street. The project has allowed AHA to consolidate its administrative operations from several sites, primarily two vacant high-rise residential buildings, which have since been demolished. The headquarters building was sited between Westerlo and South Ferry Streets, a few blocks south of Albany's downtown business district, to attract investment into the South End community. To date buildings between AHA and downtown have been rehabilitated and new businesses have opened.
To contact the Main Office please call: 518-641-7500
Photo Categories