Westview Homes, 680 Central Ave.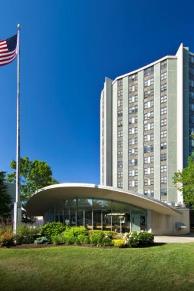 Westview Homes
Westview Homes is a 182 unit senior/disabled high rise apartment building, consisting of studio and one-bedroom apartments, located in a residential neighborhood on Central Ave. We are on the CDTA bus lines conveniently located near Westgate Mall, Northway Mall, Colonie Center and the major supermarkets: ShopRite, PriceChopper, and Hannaford. A free shuttle bus picks up residents weekly for their grocery shopping at PriceChopper and Hannaford. Blessed Sacrament Church is within walking distance for food pantry, thrift shop and religious services. Westview also offers onsite laundry facilities and a computer lab.
In recent years Westview Homes has undergone renovations to the elevator system, remodeling of the main lobby and upper hallways, new window installation in all apartments, the building heating system was converted from electric to gas and the patio was remodeled.
Rent is based on 30% of a resident's income and includes heat and electric. There is an additional fee for air conditioning. The age requirement is 62 and older for seniors and 55 and older if a resident is disabled.
Westview Homes Senior Center
Senior Services of Albany offers their counseling services through a Community Care manager who has an office on site. Services provided include assisting with Social Security, Medicare/Medicaid, medical transportation, home care services and other social/health/welfare issues pertaining to seniors.
The Senior Center, also directed by Senior Services of Albany, located in the Community Room, provides activities, instructional programs, and congregate lunch Monday – Friday. Dinner is available every Wednesday evening.
Westview Homes Community Room
The Community Room is open daily 8 am – 8 pm. There are four flat-screen TVs and four DVD players. Tenants may reserve the Community Room, for a small fee, for private parties. Here tenants meet to work on jigsaw puzzles, play Bingo, card games and socialize.
Managers Office
For information on Westview Homes please contact:
Nancy Messina
Asset Manager
680 Central Ave
Albany, NY 12206
Phone: 518-380-5571
Office hours: Monday, Wednesday, and Friday – 8:00 am – 12:30 pm
Tuesday and Thursday – 2:00 pm – 4:30 pm
Welcome Video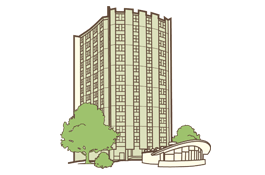 Photo Categories