Westview Homes, 680 Central Ave.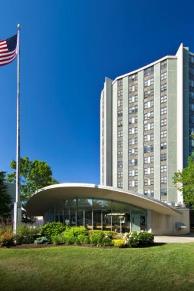 Westview Homes
This is an elderly high rise with 182 units. The building is in a residential neighborhood adjacent to a busy commercial street. A shopping center also is nearby and a local supermarket provides a bus to the residents once a week for shopping. There is an active Senior Service Center in the community room. In the late 1980's kitchens were rehabbed, updated windows were installed and asbestos removal, sprinkler installation, mechanical and electrical work was aldo done. Site work was done in 1991. In the mid 1990's interior redesign of the ground floor and common corridors was done along with re-roofing the community room. In 2000 the exterior concrete panels were refinished and caulked. 39 studio apartments were combined to form 26 one bedroom apartments also creating 5% accessible units in 2001 and 2006. An electric to gas conversion, toilet, light and partial refrigerator replacement, motor efficiency improvements, ventilation controls, glazing of the link to the community room and the community room A/C are being done now under the energy performance contract.
Westview Homes Senior Center
Albany County Dept of Senior Services offers their counseling services through a Resident Advisor, Elisa Nachamkin and the Senior Center Director, Lynn Gross. Meals on Wheels are provided to qualified senior residents, a lunch program, twice monthly dinners, organized day trips, informational meetings on topics pertaining to senior living, Westview Choir, Veterans Group and more activities.
Community Center
The Community Center is open to the tenants daily until 8pm. There are four flat screen TVs and four DVD players. Also available is a Wii sports package available to tenants through reservation. Monday – Friday morning breakfast is served at Carol's Cafe between 8am and 9:30am. Carol also puts on a dinner once a month. Tenants may reserve the community center for small parties. Thursday night is Bingo night.
On Site / Neighborhood Resources
Once a week Hannaford and Price Chopper provide a bus to take the tenants grocery shopping.
Albany Public Library's Bookmobile arrives twice a month for tenants to have access to library materials.
Westview Homes Tenants' Association
Westview Homes Tenants' Association meets the third Tuesday of each month at 3pm in the community center.
Managers Office
For information on Westview Homes please contact:
Nancy Messina
Asset Manager
680 Central Ave
Albany, NY 12206
Phone: 518-380-5571
Welcome Video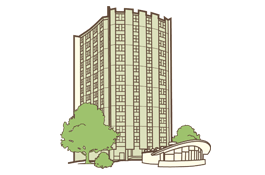 Photo Categories