AHA and Habitat for Humanity
Partner on Pilot Rehab Project
Albany, NY – Capital District Habitat for Humanity (CDHfH) is actively seeking sponsors for a rehabilitation project of a vacant building in the South End of the City.  The Albany Housing Authority (AHA) has partnered with Habitat in a demonstration project to re-establish the Habitat model for affordable homeownership in renovation construction rather than the more typical new construction Habitat has embraced since 2004.  AHA has committed $20,000 to jump start this project.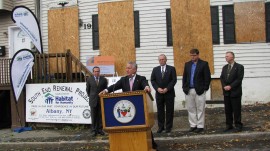 The vacant building was recently acquired by Habitat and was donated to the affiliate by Albany County.  The County secured the property through foreclosure in 2007.  Located at 19 Odell Street, this building has been vacant for only 18 months has been assessed as a viable rehab project by the partners.  Odell Street has been the construction zone for Habitat since 2007 and Habitat just recently completed their 5th home on this block in the South End.   This building sits across the street from the 5 homes now occupied by qualified low income families, and while in rough shape visually, it seems structurally sound and has not sustained any significant water damage, which is typical of abandoned and vacant buildings.
As Habitat wound down its work in North Albany in 2007, where they have completed 17 homes since 2004, in partnership with the City of Albany they set their sights on the South End.  This renovated home will be part of Capital District Habitat for Humanity's South End Renewal Project — a community revitalization project in Albany's South End.  Habitat sits on the South End Action Committee (SEAC) along with AHA and other community partners.  The Committee is chaired by Hon. Carolyn McLaughlin.  There are over 700 buildings on the City's Vacant Building Registry and the support of the community for Habitat to take on a rehabilitation project is seen as an important step toward the sort of reinvestment that is required to turn the liability of vacant buildings into a city asset.
"Our partnership with AHA is significant because it includes not only the starting cash investment to gut and rewire the home, but also the demonstration of the commitment by the City of Albany to support reinvestment in its building stock," said Steve Haggerty, Executive Director at Capital District Habitat for Humanity.  The work of rehabilitation of existing vacant stock historically has proven to be more costly to Habitat, and less volunteer friendly.  Habitat's model relies on volunteer labor to build affordable homes, and frequently with rehabilitation there is a higher skill level and craftsmanship required to restore the home.
Now Habitat is seeking a sponsoring partner to support the construction.  Typically, Habitat secures a sponsor in the amount of $40,000 and then through existing banking relationships borrows the balance of $42,000 to meet materials, and required contract labor costs.  Occasionally, several sponsors will partner to achieve the $40,000 donation.  Recent sponsors include State Employees Federal Credit Union (SEFCU), the United Methodists Churches, Siena College, and First Unitarian Universalist Society of Albany (FUUSA).  Since taking the helm at Habitat as the Executive Director in 2005, Mr. Haggerty has frequently answered the question of why Habitat does new construction rather than renovations.  "As I explain the variable costs and increased craftsmanship required folks often take me to task regarding the need for reinvestment in the existing building stock.  It is now our hope that the AHA funds will leverage from these interested parties the additional commitment and support needed to bring the project to fruition," he said.  "Habitat is eager to start such a rehab project and we are pleased it could happen here in the City of Albany," he added.
"We are excited to find out if the successful model employed by Habitat utilizing private donations of money and labor on new home construction can be replicated in existing older vacant structures in need of renovation," said Steve Longo, AHA's Executive Director.
The vacant building located at 19 Odell Street is slated for Rehabilitation by capital District Habitat for Humanity.