Arbor Hill Homes and Swan Street LLC, 155 Clinton Ave.
Arbor Hill Neighborhood Plan
The Plan, completed in July 2003 by community stakeholders and leaders brought together by Mayor Jennings, focused attention on housing, economic development, arts and culture, and quality of life issues confronting Arbor Hill. A high degree of consensus was reached, which has resulted in many of the Plan's objectives being met, including significant housing investments and the creation of a new neighborhood association.
Arbor Hill Homes
54 townhouse-style rental apartments on scattered sites planned and designed in accordance with guidelines set forth in the Arbor Hill Neighborhood Plan. The project was developed using a mixed-finance approach with HUD HOPE VI funding and private equity from a 9% low-income housing tax credit allocation from NYS Division of Housing and Community Renewal. The units were completed and fully occupied in September 2007. The project is recipient of the New York State Association for Affordable Housing (NYSAFAH) 2007 Project of the Year Award.
Swan Street Mixed-Use
In December 2008, construction was completed on 23 rental apartments over 7 storefronts in a mix of rehabilitated and infill construction on North Swan Street. The project is intended to bring to the Arbor Hill community essential retail and professional services. A mixed-finance approach was used whereby HUD HOPE VI funding is combined with private equity from a 4% low-income housing tax credit allocation provided by the NYS Division of Housing and Community Renewal. Additional funding is provided by NYS through its Main Street Program and by the Albany County Housing Trust Fund in its inaugural year as the first county housing trust fund in New York State. AHA was awarded the 2009 Preservation Merit Award for Rehabilitation, by the Historic Albany Foundation.
Managers Office
For information on Arbor Hill Homes and Swan Street LLC please contact:
Welcome Video
View Location & Get Directions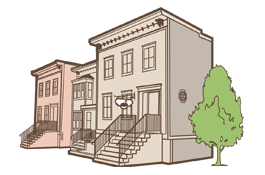 Photo Categories