Lincoln Square Homes, 3 Lincoln Square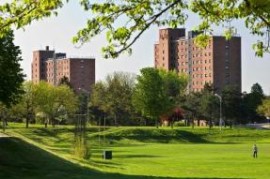 Lincoln Square Homes
There are 3 buildings with 191 units at this site which is adjacent to a large public park and close to a NYS government office complex. The site was substantially rehabbed in the mid 1980's. Energy Performance contract work taking place now includes burner upgrades, ventilation controls, toilet and lighting replacement and partial refrigerator replacement. This development has been the subject of multiple unsuccessful MROP and HOPE VI grant applications. A vacant high rise was demolished with Capital Fund money and a demolition grant in 2004. The neighborhood surrounding this site has received LIHTC funds for major rehabilitation of a former 80 unit assisted housing site, and for construction of new townhouse units under an Albany Housing Authority affiliate. This is in preparation for additional grant applications to strengthen the surrounding neighborhood and site and potentially relocate the residents of this site into the newly constructed and rehabilitated units. There is a relatively large Head Start Day Care center located in one of the buildings.
Lincoln Park
Lincoln Square Homes is located across the street from Albany's Lincoln Park. Lincoln Park was organized in 1886. It was originally known as Delaware Square and later as Beaver Park. Today, the park has a pool that is open to city residents during the summer months.
Albany, NY – Wikipedia
Washington Park Conservancy – Lincoln Park
Manager's Office
For information on Lincoln Square Homes please contact:
Steve Iarossi
Senior Asset Manager
34 Morton Avenue
Albany, NY 12202
Phone: 518-380-5568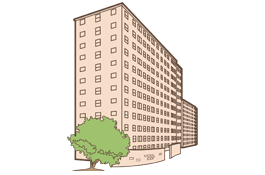 Photo Categories

Community Spaces (1)