Search Results for:
Ida Yarbrough
Progress Time Lapse Video (January – February 2017)
Demolition of Ida Yarbrough Low Rise Buildings
Construction Begins
The Ida Yarbrough Homes Demolition Application is now available!
Ida Yarbrough Homes, 270 North Pearl Street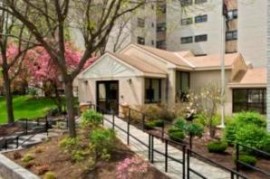 Ida Yarbrough Homes
This is a family development that has 2 high rise elderly and disabled buildings with 224 units. It is located near the downtown Albany business district, a federal office building and an interstate. There has been commercial and residential reinvestment activity within walking distance. It is also close to an elementary school and public health clinic. The site has an active after school program in the low rise community building, and an elderly community room in the high rise. The family units were substantially rehabbed in the mid-1980's and low rise sprinklers were installed in 2001. Significant low rise site work and renovations to the elderly high rises occurred in the early 1990's.
Managers Office
For information on Ida Yarbrough Homes please contact:
Mike DiBiase
Asset Manager
270 North Pearl Street
Albany, NY 12207
Phone: 518-380-5591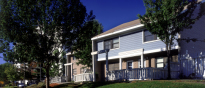 Ida Yarbrough Homes Low Rise
This is a family development that has 12 low rise family buildings with 129 units.
Residents and housing staff are relieved to see the start of the long awaited demolition of the 1970's-era Ida Yarbrough Lo-Rise Homes.  Buildings 4, 6 and 7 are being abated and demolished using $575,000 of Neighborhood Stabilization Program funds.  The grant funds remain from the recently completed rehabilitation of eight historic buildings in Arbor Hill.  City of Albany and Housing Authority staff had to work quickly with NYS Homes and Community Renewal to repurpose and expend the funds before the March 20 deadline, when they would have been returned to the US Dept. of Housing and Urban Development.
The Albany Housing Authority is in the process of submitting a mixed finance 24 C.F.R. 941 subpart f disposition application to HUD's Special Application Center.  The proposed disposition is for Phase I of the Ida Yarbrough Redevelopment Plan.  In Phase I of the redevelopment plan, 76 public housing units will be demolished and 43 newly constructed public housing units will be built. Phase I will also include up to ten future homeownership sites, which AHA expects to collaborate with Habitat for Humanity or another not-for-profit developer. The following links will direct you to the disposition application that AHA will be submitting to HUD and a map of the units that will be disposed of in Phase I. If you have any comments or questions regarding the disposition application or the redevelopment plan please leave a comment below or call the comment hotline at 380-5585 to leave a voice message.  To view map of Phase I, please click Phase I Ida Yarbrough, to view Disposition Application please click Disposition Application.
Ida Yarbrough Homes Reborn
By Darren Scott, Director of Planning and Development
Ida Yarbrough Homes was built in the early 1970's as 129 low-rise residential apartments surrounding a series of courtyards and parking lots on a hillside overlooking North Pearl Street.  For the next 40 years it would undergo several major renovations, never overcoming latent problems in its layout and construction, yet housing hundreds of families in need of decent affordable homes.  Love it or hate it, residents are in agreement that it's time to rebuild it.
There is a sense of community at the low-rise development.  It is a family site with many places to play without worry of children going in the street.  People know each other and have a sense of community.  Over several meetings held in late 2009, residents told Authority staff and consultants what worked and what didn't about Ida Yarbrough.  While there is community, there are too many apartments and too many children with too little adult supervision.  The apartments are well maintained, but they are outdated.  And while there remains the need for affordable rental housing, there is a strong desire for homeownership.
From these observations, a new vision was created.  The apartments will be demolished in phases and fewer new apartments constructed in their place.  In total, approximately 80 rental apartments and 20 houses for sale will be built.  They will be attractive, spacious and energy efficient, offering amenities often found in market rate housing.  The site is designed to capitalize on the sense of community amongst its residents while providing security from those who would take advantage of it.
Residents will be provided with robust relocation assistance and encouraged to rent and purchase the new homes to the greatest extent possible when they are complete.  In the interim, the Authority is developing additional apartments throughout the neighborhood on vacant lots and in abandoned buildings to replace housing that cannot be accommodated on-site.  Also, residents will have the choice of using portable Section 8 vouchers to find housing in the private rental market.
Ida Yarbrough Homes will be reborn, insuring that its residents continue to have a place in Arbor Hill.  For more information on redevelopment plans and the Arbor Hill Neighborhood Plan, please download the following files;
The following candidates are running for the office of tenant commissioner. Voting will be held on November 10th, 2009 with a candidates' night on November 5th at the Everly Cromwell Center located within Ida Yarbrough Homes. Please click on the candidates name to see a short biography.

Are you interested in helping to GOVERN the Authority, DEVELOP current and future programs, and APPROVE contracts?
RUN FOR RESIDENT COMMISSIONER & JOIN THE BOARD
A qualified candidate is any resident of the AHA or Section 8 recipient for at least 30 days prior to the election, is 18 years of age or older, and is in good standing as a resident.
Just get 50 signatures from fellow residents of AHA or Section 8 to secure a nomination-and, don't worry, you will receive training and support once elected to the Board.
Important Dates
Voter & Candidate Informational Meetings
1:00 pm to 2:00 pm
8/20/15 Townsend Community Room, 8/21/15 Westview Community Room
6:00 pm to 7:00 pm
8/26/15 Ida Yarbrough-Everly Cromwell Community Center
8/27/15 North Albany Homes-Community Center
*candidates interested in running must attend one informational meeting
9/15/15 Completed Petitions Submitted to Development Manager or AHA Office Reception at 200 South Pearl Street
10/5/15 6:00 to 7:30pm Meet the Candidates!
AHA Main Office 200 South Pearl Street
*mandatory for all candidates
10/13/15 E L E C T I O N D A Y
All ballots must be received or post marked by 10/13/15
For a Printable Version of the Candidate Petition, Click Here!
Questions? Contact Seanan Herrick at sherrick@caresny.org or 518.489.4130 x 101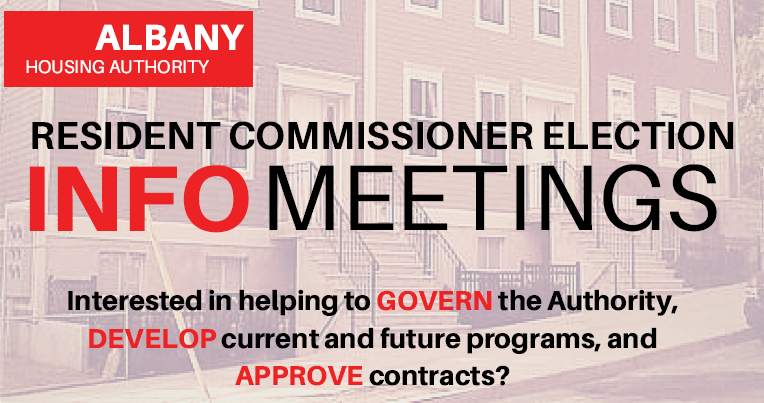 Join us at one of more of these candidate and voter informational meetings to learn more!
8/20/2015 – 1:00 pm – 2:00 pm – Townsend Community Room
8/21/2015 – 1:00 pm – 2:00 pm – Westview Community Room
8/26/2015 – 6:00 pm – 7:00 pm – Ida Yarbrough/Everly Cromwell Community Center
8/27/2015 – 6:00 pm – 7:00 pm – North Albany Homes Community Center
For a printable copy of the informational flyer, Click Here!
Questions? Get in Touch: Seanan Herrick – sherrick@caresny.org – 518.489.4130 x 101
AGENDA
ALBANY HOUSING AUTHORITY
BOARD OF COMMISSIONERS MEETING
MONDAY, OCTOBER 21st, 2013 at 2:30 P.M.
200 South Pearl Street
 1.        Roll Call.
          2.         Community Forum
          3.         Reading and approval of the minutes of the previous meeting held September 9th, 2013
          4.         Action Calendar
10-13-44           Authorization to submit an application to the U.S. Dept. Of Housing and Urban Renewal for permission to demolish buildings #10 and #11at the Low-Rise Portion of Ida Yarbrough Homes and to execute and deliver all documents and agreements necessary to support such application.  Buildings #10 and #11 are currently vacant and were included in Resolution 01-13-03, which authorized the demolition of up to ninety-two (92) public housing units at the low-rise portion of Ida Yarbrough Homes. (Ratified)
10-13-45           Approval to enter into a contract for Architectural and Engineering Services for Ida Yarbrough Homes Rehabilitation, Phase I with Dave Sadowsky, Architect P.C., the firm that submitted the proposal found to be most advantageous to the Authority, for an amount not to exceed $99,850.  Proposals were also submitted by SYVERTSEN RIGOSU Architects PLLC, ICON Architecture, and Harris A. Sanders, Architects, P.C. (Ratified)
10-13-46        Approval to award Capital Woods Contract 001-2013-14 Deep energy Retrofit and Exterior Siding Contract to the low bidder, Bennett Contracting in the amount of $46,700.00 with the AHA contribution to this amount to be $32,500.00. (Ratified)
2nd bidder, Hoosick Valley Contracting -74,800
3rd Bidder, Mid State $90,983
10-13-47         Authorization, contingent on availability of RHF Funds, to award Contract # 04-2013-8D, Interior Renovations at 34 Morton Ave., to the low bidder, A.J Arpey Inc., 112 Colombia Ave. Ballston Spa, NY 12020  in the amount of $162,900.
Second low bidder – AOW Associates $164,000
Third low bidder – Bunkoff General Contractors $184,000
Fourth – Hoosick Valley Contractors  $213,600
Fifth –    Wainschaf Associates $235,000
Sixth – Bennett Contracting, Inc. $236,400
10-13-48         Authorization, contingent upon availability of RHF Funds, to enter into a contract for the renovation of 84 Morton Ave with the low bidder, AOW Associates 30 Essex Street, Albany, NY, Addendum #1 for a Guaranteed Maximum Price not to exceed $354,000.
Second Bidder Bishop Beaudry
Third Bidder Sano Rubin
10-13-49         Authorization, contingent upon availability of RHF Funds, to award Contract # 04-2013-8a, Roofing, Masonry Repair and Repointing at 34 Morton Ave. to the low bidder (bids to be received October 21)
5.           Reports of Committees
 6.          Unfinished Business
 7.          New Business:
8.           Bills and Communications
9.          Report of the Executive Secretary
A.    Monthly Management Report
B.     Monthly Financial Report (Deputy Director)
C.    Items for Advisement and Discussion
Bank Balance as of 10/17/13                             
10.       Adjournment –
NEXT MEETING:
 Monday, November 11th 2013 @ 2:30 p.m.
200 South Pearl Street, Albany, New York 12202